Renewing your 5 year driving licence in Thailand
Your 5 year driving licence will expire on your birthday, in the current circumstances you have up to 90 days after date of expiry to renew your licence without having to take a driving test. If you go to renew your driving licence after it has expired (you shouldn't leave it more than a couple of days) then your licence will be valid for almost six years!
You will need to attend your local department of transport to renew your licence and it is best to attend early to mid morning and prepare to be there for 2 to 3 hours.
Documents which you will need to take:
Your passport and copies of the photo page and your visa stamp
Your work permit if you have one and photocopies of every used page in your work permit
If you don't have a work permit you will need a residence certificate from immigration
Your old driving licence
When you first arrive at the office and inform the staff that you wish to extend your driving licence, in Thai this is – 'dtor aayoo bai kap kee' then they will usually fill in the form for you as they prefer to have it written in Thai.
Road Safety Video
They will then advise you to sit down and wait until you are called into a room with around 10 other people to watch a road safety video (the video lasts for one hour).
I was a little annoyed at having to watch this safety video as I've had a driving licence for 18 years and in three different countries around the world but I didn't have any other choice. I was actually quite impressed with the quality of the video and the effort which had gone into making it, it seems to me that serious steps are being taken in order to improve road safety and I am very happy about that.
During the video a registration book will be passed around the room and when it arrives in your possession you will need to write your name, the type of licence which you are applying for (car, motorbike or both) and your telephone number.
After the video has finished you and the other members of the group will be asked to form a queue for the awareness tests.
The first test is a colour blindness test, you will need to identify the colours red, yellow and green on a chart (some testing centers require you to repeat the test covering one eye at a time also).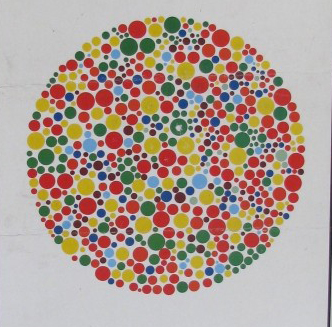 Depth Perception Test
The second test is a perception test where you will use a remote control in order to move two small white poles inside a box level with one another, if you have ever been to a race night in a pub then you will see the similarity with the way the horses move along the track. It was really difficult to get a photo of this one so you're going to have to use your imagination I'm afraid.
The accelerator/brake test
Now, this is intended to test your reaction time and lots of people fail the first time. You have to push the accelerator with your right foot as though you were driving whilst the green light is showing. As soon as the green light turns to red then you must take your foot off the accelerator and press the brake. I always take off my shoe to do this as I drive with no shoes and this time it seemed like I stamped harder on the brake than those people who were wearing shoes.
After the accelerator and brake test, some testing centers will want to check your peripheral vision and ask you to sit on a stool and whilst looking forward identify colours to the left and right hand side of your face without moving your head.
Providing that you pass all of these tests then it is time to part with your cash, 550 baht and pay for you new 5 year driving licence.
Don't forget to check that your name is spelled correctly and then you will have your photo taken and be presented with your new 5 year driving licence – easy as that!
This information is for advisory purposes only and as the rules change frequently you are advised to check the latest rules with your local driving test centre before going to renew your licence.
Find out more about expat health insurance in Thailand