Child's First UK Passport In Thailand
First British Passport for Thai Children
We can do it for you without going to Bangkok for a service fee of just 10,000 baht
Great news, Key Visa Thailand can take the hassle away for a service fee of only 10,000 Thai baht which includes document checking, photocopies, translations to English, taking the application to Bangkok and collecting the new British passport when it is ready.
If a British citizen has a relationship with a Thai national resulting in a child with both of their names on the baby's birth certificate, that child is eligible for a British passport. That is a great thing to have for the baby's future whether you are planning on traveling immediately or not.
The child is also entitled to a Thai passport along with his or her British passport. Dual nationality is not an issue. When the baby's passport is issued it will be for 5 years, and can be renewed every 5 years with no problems and will only change to 10 years after the child reaches the age of 16 years.
The baby's passport will be issued regardless of marital status, as long as the baby was born after 1st July 2006. So, do not wait to apply for the passport because naturalizing the child as a British citizen is wonderful for their future and do it now in case the rules change in the future.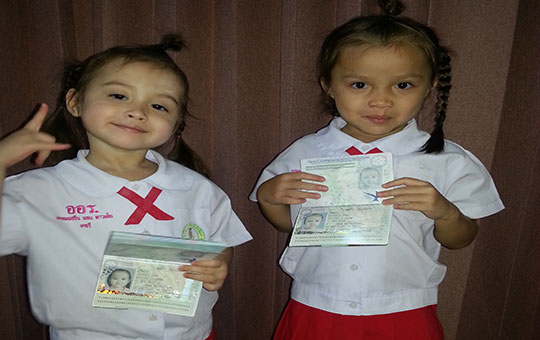 You can send your documents to us by EMS and we will send the completed passport to you by EMS at a cost of just 100 baht – Find Out How Once we have received your documents and they have been checked we will e-mail you to confirm we have them and also advise you of our Thai bank account details to deposit the fee.
Please note that all the Thai documents supplied are translated to English making sure that your child's name has been spelt correctly. You must also photocopy all pages including every passport page in color. The reason is because after we submit, the HMPO in Bangkok sends the copies to the UK not the originals.
When to apply
You should apply for the passport as soon as you can and the British parent needs to be in Thailand with their passport for the application to be submitted so make sure you are available.
The British Passport application should be completed in black ink only not blue.
You complete the back page of the form and have a countersignature on the form preferably a British Citizen who knows you or the child depending on age and has done for approximately 2 years.
Also make sure they countersign one of the passport photographs.
The box guidelines on each page of the OS application form will explain how to fill in the form.
You then download the credit card form from the British Embassy website and fill it in with the correct details
Payment will be deducted from your account by the passport office in the UK at the HMPO and do not worry it is very secure.
If you live in Thailand and do not have a credit or UK debit card then maybe you have a friend or family who can assist with their card it does not have to be in your name.
As part of our service Key Visa will then make an appointment via e-mail with theHMPO office located on Sukhumvit Road, Soi 13, Bangkok and we then will receive your application appointment within three days.
Key Visa staff will then take your application to Bangkok and submit the paperwork and bring back the important original documents to our office in Pattaya so they can be collected immediately after submission.
Documents to bring to the office
You must supply both passport application forms completed in black ink, the OS application form and the credit card payment form.
You must supply two passport photographs size 35mm wide by 45mm high the pictures must be taken with a white background or a light grey and if the photographs are wrong then it will hold up the process. Check the photo guidelines here.
You must make sure you bring the documents listed below – do not worry we will do the color copies.
Please bring our service fee of 10,000 Thai baht with your documents
Collecting Your Passport
Either you or Key Visa will receive a telephone call or an e-mail from the HMPO office when your passport has arrived.
Key Visa staff will then collect the UK passport and bring it back to Pattaya. At present it is taking 4-6 weeks to arrive back in Thailand.
Using the form supplied you will then change your current permission to stay into your new passport at immigration.
PIECE OF MIND AND GUIDANCE FOR ONLY 10,000 Thai baht.
 Documents needed for a UK babies passport - All must be originals not just copies!!!
Father Original Documents
Passport
Birth certificate "must be long certificate with mum and dads name on"
Mother Original Documents
Passport "If have"
Identification card
Household book "tabien baan"
Birth Certificate
If married - original marriage certificate
Change of Name Certificate
Divorce Certificate
Babies Original Documents
Thai Birth Certificate
Household Registration
Passport Photographs x 2 "must be white background"
Counter Signature from someone who has known the family for 2 years
If the counter signatory is from the EU they must also include a copy of their passport
Perfect service for my sons first British passport, 10/10
No issues at all. We've had uk visas first uk baby passport and visa extensions for myself. Good job.
Darren helped in every way he could have done, he did everything I asked of him, brilliant service got my two kids British passports in less than 6 weeks thank you.