Legal marriage and Thai style marriage
Legal marriage and the Thai style of marriage are completely different in the respect that one is legal in the eyes of the law and one is legal in the eyes of your Thai wife's family so below I have given you the overview so you understand the difference between the two.
Legal style marriage
The legal style  marriage in Thailand is done when you both attend a Thai registry office or called the local Amphur to sign the legal marriage documents and this is recognized as legal all around the World so please do not mistake this as a marriage only legal in Thailand as it is not and also marrying again before divorce is committing bigamy. A legal Thai marriage starts by obtaining an affirmation to marry and then it being stamped by the Thai Ministry of foreign affairs before you can marry and at Key Visa we do a complete marriage service to help you through the full process please read.
http:///www.keyvisathailand.com/australian-legal-marriage-service/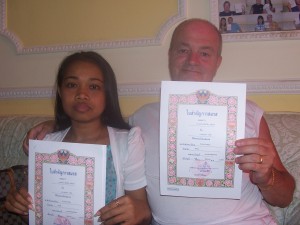 Thai Style marriage
This is commonly known as the Buddhist style/ Thai style of marriage and would normally be performed in your Thai partners home village wearing Thai traditional dress. The day would start with the blessing ceremony of pouring water over your hands by the family members as good luck and their acceptance of the marriage and then it would be blessed by normally 9 monks from the local Temple to give prosperity and good luck for the marriage. This is a wonderful experience and one that would be remembered forever and should be embraced by all but you should remember in the eyes of the law it is not legal there is no paper signing and it is only recognized by your Thai partners/ Thai wife's family.