Students come from all over the world to study in Australia. Australian universities offer fine campuses and faculty that are experts in their fields. Furthermore, Australian degrees are recognized and respected all over the world. Below are 4 of the most popular cities for Thai students.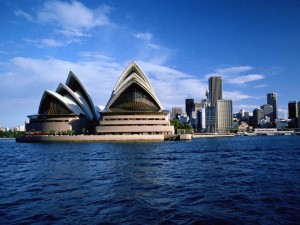 4. Canberra
Canberra is the capital city of Australia and it is also home to one of Australia's top-ranked universities, Australia National University. One thing that is different about Canberra from the other Australian cities on the list. Canberra is the one Australian city on the list without that is not just a short walk to the beach.
When not in class, students in Canberra can make up for the lack of a beach by finding recreation at the man-made lake at the center of the city and finding recreation in the numerous nature reserves that are located in the area.
3. Brisbane
Students that choose to study in Brisbane will find a city that is a mix of urban and outdoors. The city features a cosmopolitan city center that has seen incredible growth over the recent years, but the city also has great beaches, a pleasant climate, and is a center for sports lovers.
Brisbane is also a hotspot for tourists because of its location in relation to the Gold Coast. The city is home to 3 of Australia's top universities, and that has led to a great student environment as its evident that the university population has had a significant influence on the city.
2. Melbourne
The city of Melbourne is known as Australia's cultural capital and has also been rated as one of the world's most livable cities. It is also the home to the University of Melbourne and Monash University. Both of the universities rank well internationally.
When not studying, Melbourne offers everything there is for living in Australia. Students can relax by visiting the beach, enjoying the rich nightlife of Melbourne, and take part in the numerous cultural events that are held over the course of a year. Also, the weather is sunny for sizable amount of days during the year.
1. Sydney
Sydney is perhaps the most famous Australian city and is well known for its iconic harbor, ridge, and opera house. The city is also the location of 5 universities, most notably the University of Sydney and the University of New South Wales.
Sydney is the economic and financial hub of the country. IN addition to the iconic sites in the city, students can spend time in the city's expansive green spaces or relax on the beach.