There certainly isn't any real difficulty in finding you favorite Thai foods and the ingredients to make your favorite dishes when in Australia. There are two primary sources of finding groceries from Thailand. The first is the traditional brick and mortar store.

These can be chains or just small single shop businesses that specialize in Asian foods and ingredients. The alterative is grocery shopping online and having the groceries delivered straight to your door.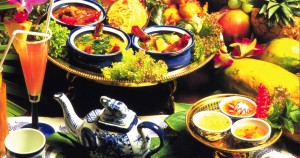 Brick and Mortar Stores
There are a number of physical stores that sell Thai ingredients and groceries, all of which are the same that can be found when shopping in Thailand. This type of store can be found in virtually any major city in the country, and are found in abundance in cities like Sydney, Melbourne, Brisbane, and Canberra.
Some stores, such as My Thai Kitchen are small and specialize in only Thai foods and ingredients. These types of stores offer a limited selection focusing only on Thai brands. That means that if you want foods from other countries or regions of the food, shopping for those foods will have to be done elsewhere.
However, this specialization allows those shopping for food to find high quality and authentic Thai curry paste, sauces like fish sauce and oyster sauce, coconut cream, plus rice and noodles. Additionally, these stores provide specialty-cooking utensils that are used for Thai cooking.
Online Shopping
Shopping for Thai groceries online is a fairly efficient and reliable experience, especially if you are a shopper who knows exactly what items you are going to buy. Additionally, the best part is that there is no need to physically search the city, just find an online site specializing in Thai food like Thai Supermarket or Asian Grocery Store and start adding items to your cart.
Perhaps the only drawback to this method is the inability to spontaneously find the ingredients and make a dish because of the need to wait for delivery. However, if you are a shopper with a list and you know exactly what Thai ingredients or foods you want, then this may be the way to go. Many of the online shops offer the ingredients like pastes and sauces, but also offer the Thai products such as Mama Noodles and other favorites of Thailand for a quick snack or full meal.
Plenty of Choices
There are plenty of options for both types of shopping for Thai groceries. The stores are plentiful and often their selections are just as plentiful as shopping in Thailand. Most will carry at least the top and most well known brands of products and ingredients. There should be no problem making your favorite Thai dishes with authentic ingredients in while in Australia.