The Top 5 Cities Where Most Expats Live In Thailand
The Top 5 Cities Where Most Expats Live In Thailand
When an ex-pat comes to Thailand the first proposition they are faced with is an obvious one. Where is the best location to live comfortably? Of course this depends on your particular circumstance because many old and young come here to live for dissimilar reasons. Employment, businesses, retirement, girlfriends and more will all come into the equation. Here are the top 5 cities in Thailand where you will find ex-pat communities.
Pattaya City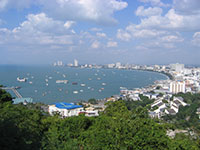 Pattaya is literally a haven for foreigners. Arguably on any given day there are more expats here than Thais. You can look around the streets on a busy Saturday afternoon and count more foreigners or equal to the number of Thais walking around. There is a noticeable mix of foreign retirees, school teachers, bar, hotel and restaurants owners. The city is on a beach and is close to moving into to Thailand as you will get to a place that is like the beaches of Spain in the summer.
Chiang Mai
Chiang Mai is renowned for its astounding mountain tops and cool winter environment. Many expats move here because it is the closest place that resembles the seasons they miss so much in their home country. Winter comes minus the snow and thick ice making the city a perfect place to live for those that can't stand the relentless scorching heat of Southern Thailand.
Most expats are found in dwellings close to the convenience of the city centre. Here they can easily rent a spacious two or three bedroom condo for $250 or more. Furthermore, bargain offers are available for river view condos and houses with 1,500 square feet that may only set them back around $500. This is a far cry from the prices you would pay for a river view property in Bangkok.
Phuket
Phuket is huge island, but it is classified as a city when counted as a whole. There has been an influx of foreigners moving here over the years as well as wealthy Thais together pushing the property prices up sky high. It is an extremely popular place to buy expensive, but luxury villas and condos. Even though the prices to rent or buy here are not cheap, they are still comparably cheaper than a similar property in Europe, many major US cities or similar locations in the US and Europe.
Hua Hin
Some call Hua Hin a town, while others call it a city. Even the government seem to interchange between the two phrases. Maybe it is a town as the population is just 84,883 people. The 'city' label is possibly a marketing gimmick to attract those seeking a city on the beach holiday, while using the term 'city' is to attract those looking for a seaside town. Nonetheless, Wiki Travel does describe this location as a seaside city, so we'll go with that.
Hua Hin has a large ex-pat community around the same size as Chiang Mai, but in Hua Hin this set of foreigners are more compacted as the city /town itself is not very big. Many foreigners buy property here because the prices are cheaper than Pattaya, Phuket and Bangkok in most cases. Plus the lifestyle is more relaxed because Hua Hin is not as seedy or as crowded as other seaside options such as Pattaya or Phuket.
Bangkok
Bangkok has the largest ex-pat community in Thailand. Many of the foreigners here are working and very few are retirees, who would generally opt for the slower pace of life in one of the other cities mentioned here. Financial, marketing, tourism, engineering, teaching and many other employment options land foreigners in Bangkok. There are a handful of areas where expats regularly hang out, and all those modern creature comforts or foreign cuisine as well as high end living standards are on your doorstep.